Where to go with children in St. Petersburg
08.09.2022
The city is rich in attractions and entertainment. Parents only have time to offer, and children – to choose!
In addition to the Hermitage, the zoo and the circus, there are many places in the Northern capital where you can go with children. Forest embassy, Lisapark, Republic of cats, Teslatorium – any interests and tastes of the child will be satisfied!
First of all, you need to decide what kind of vacation you want: cultural and educational, active and entertaining or quiet and unhurried. And then choose places and build a route around the city.
Cognitive rest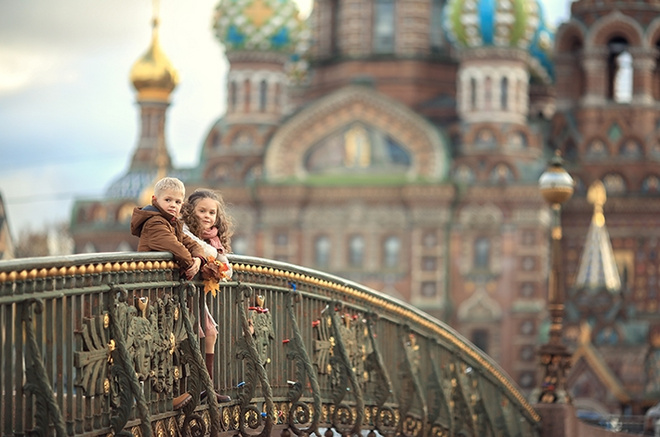 Museum "Grand Layout Russia"
The entire museum is a model of our country, located on 800 m 2 . There are cities with iconic buildings, and the countryside with farms and gardens, and forests, and seas. There is even a railway, on which trains run, as well as highways.
Special buttons can set in motion scenes from life, namely:
chickens are pecking at the farm;
firefighters put out the fire;
lumberjacks cut trees, etc.
The seasons, climatic zones, day and night change. The model helps to get to know the territory of the country, to get acquainted with various professions. An audio guide is provided for self-study. However, it is much more interesting to join a group tour or take an individual guide.
Zoo museum
Peter I himself is considered the founder of the museum, since it was he who brought the first exhibits from Holland. It will be especially interesting to visit the museum for children who are fond of biology, as there is a collection of all the main animal species.
The most popular exposition of the museum is mammoths. The showroom features:
mammoth mummies;
the world's largest mammoth skeleton;
a stuffed animal of the famous Berezovsky mammoth .
The Berezovsky mammoth is a unique specimen of an adult male woolly mammoth well preserved in permafrost, which is on display at the Zoological Museum of the Zoological Institute of the Russian Academy of Sciences. Named after the Berezovka River, on the banks of which it was found.
Museum-model "Petrovskaya Aquatoria"
Peter in miniature! If there is no time to go around all the streets and sights of the city, you can get acquainted with them in the museum, which is located in the open air.
Copies of palaces, estates, parks and squares are made with amazing accuracy on a scale of 1:87 to the originals.
Model ships float on real water, thousands of figurines of people and buildings, as well as miniature Peterhof, Kronstadt and Oranienbaum, where tourists do not always have time to go.
City of professions for children "KidBurg"
An interactive museum where a child can be a pilot, a cook, a doctor, and a teacher.
There are several cafes for hungry parents.
Children under the age of five are likely to be bored in this museum. Besides, they won't understand much.
Petersburg Puppet Museum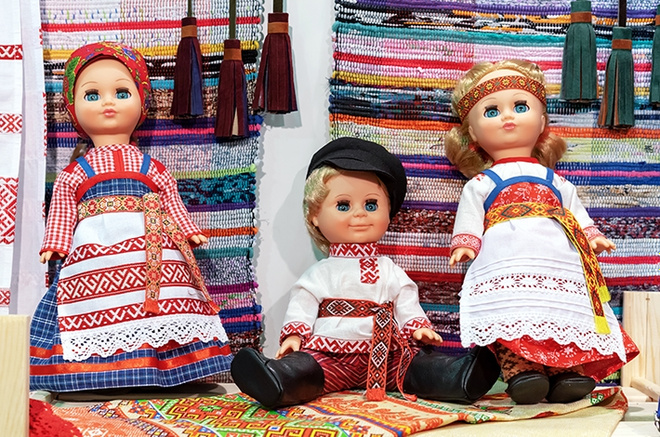 The museum was created on the basis of private collections and initially consisted of only about 1000 dolls. Now the museum has more than 40 thousand exhibits. And these are not only dolls, but also masks, collages, decorations, clothes.
Interior, theatrical and folklore dolls are presented in 12 exhibition halls! If you know the schedule in advance, you can attend interactive classes, performances and master classes with your child.
The museum has a workshop where you can watch the production of dolls. And a souvenir shop where you can buy them.
Museum of entertaining science "LabyrinthUm"
Going here will be interesting even for adults. In a fascinating format, in an accessible and understandable way, museum staff talk about the basic laws of physics, chemistry, astronomy, mathematics and biology.
If you wish, you can be in the epicenter of a tornado , touch lightning, visit space on a gyroscope, learn the wonders of electricity, optics and mechanics.
A tornado is a rapidly rotating column of air that touches the ground. It is often seen as a funnel cloud.

A gyroscope is a device that has a free axis of rotation and is capable of responding to changes in the orientation angles of the body on which it is installed. The simplest example of a gyroscope is a spinning top or a well-known children's toy top.
The museum has a science club where a child can come for the whole day to conduct research and observations in an area of interest to him.
Children under 16 can only visit the museum accompanied by an adult.
Museum Complex "The Universe of Water"
It is located in a former water tower, which is interesting in itself. The World of Water exposition tells how water was extracted, purified and delivered at different times.
Here you can see:
antique plumbing;
sanitary facilities of the Middle Ages;
old Russian well;
pots;
basins, etc.
The multimedia exhibition "The Underground World of St. Petersburg" demonstrates the way water enters the apartment: from the water intake at the bottom of the Neva to highways and an ordinary basement.
The Universe of Water complex is an encyclopedia about water seen with one's own eyes.
Museum "Russian Lefty"
This museum was founded by the International Guild of Masters, which employs people with unusual talents.
Many exhibits are so tiny that they can only be seen through a microscope. Their author, Vladimir Aniskin, is called a microminiaturist. And to make one such little thing, he works from three weeks to six months!
Museum of Russian Railways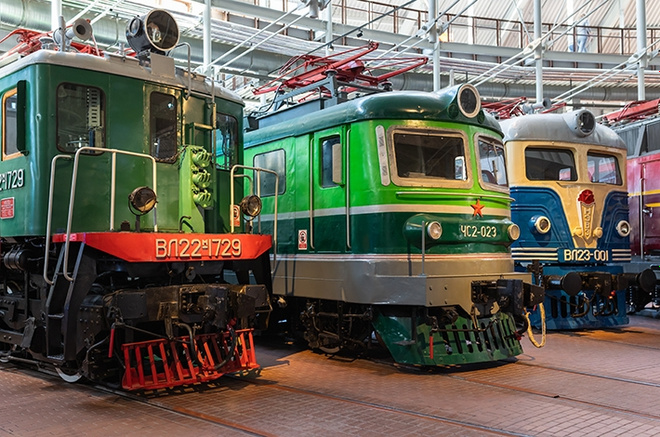 A relatively young museum, which was opened in 2017 in honor of the 180th anniversary of Russian railways.
On the territory of 50 thousand m 2 are located:
old and modern carriages;
whole compositions;
steam, heat and electric locomotives.
If you want to go on an excursion accompanied by a guide, it is better to buy a ticket in advance, as there are a lot of people who want to.
The museum has a special center where educational games are held for children who dream of becoming railway workers.
Planetarium
One of the three largest planetariums in Russia. Consists of 7 rooms. Star is designed for observations of stars and nebulae. Space Travel Hall – for interactive shows on saving the Earth and exploring black holes.
No less interesting are such halls as:
Planet;
Horizon;
Laboratory of entertaining experiments;
Hall of Illusions.
Cruiser Aurora"
For a hundred years of existence, the Aurora cruiser has been both a warship and a training base. Now it is not only a museum on Petrovskaya Embankment, but also a visiting card of the city.
You can visit the radio station, engine and boiler rooms. And in the cockpit to get acquainted with the personal belongings of the crew members.
Titicaca Museum of Records and Facts
All the most unusual is collected in four thematic halls. They bear the following names: "Made in Russia", "I believe – I do not believe", "Mysteries of nature", "Strange traditions".
Here you can see:
statues on the tips of pencils;
paper crane 4 mm in size;
shod flea;
people, non-standard in build and size, who have ever lived on the planet, etc.
Museum of Soviet slot machines
A collection of board toys and slot machines from the Soviet era. You can use everything that is in working order.
Favorite place for grandparents to walk with their grandchildren! Here they can remember youth and "enlighten" the child.
The museum also recreates an apartment from the 60s with the appropriate furnishings and rarities of that time.
Lightning Theater Teslatorium
Here you can learn all about the mysteries of electricity. The most interesting thing will be a group visit, as it takes place not only in the format of an organized excursion, but also a theatrical performance. For the audience, a real spectacular show is played!
For bird's eye view
Observation deck "Roof"
This is part of the modern loft space "Etazhi", which is located on the territory of the former bakery. There are workshops, exhibition halls, shops and cafes.
Loft style is an architectural direction in interior design of the XX-XXI centuries, for which residential or office space is created by refurbishing abandoned attic spaces or industrial buildings. It is a form of minimalism. Translated from English, "loft" literally means attic, attic, gallery, top floor of a warehouse or factory building.
From the "Roof" with a height of 27 m, a panorama of the city, Ligovsky Prospekt and its surroundings opens. The observation deck in the center is equipped with a seating area (with mattresses and pillows). It has a fence around the perimeter. It also has telescopes.
Colonnade of St. Isaac's Cathedral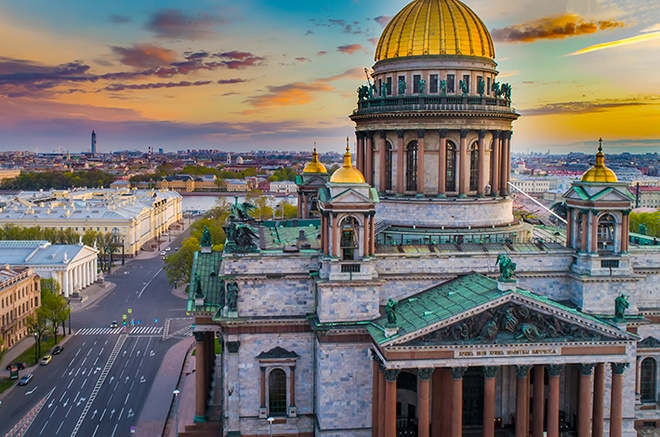 It is located at a height of 43 m above the ground. An open observation platform is located under the dome and is supported by massive columns.
However, to admire the views of the city from its height, you will have to overcome hundreds of steps of a spiral staircase.
For recreation
Amusement park "Divo-Ostrov"
A kind of Russian analogue of Disneyland, where you can spend the whole day.
Here you can ride such attractions as:
carousels and trampolines for kids;
roller coaster;
towers with the effect of free fall;
autodromes;
catamarans;
Ferris wheel;
cars on rails, etc.
The zoning of the park will help you make a choice. It is divided into three zones: for kids, for the whole family and for fans of extreme sports.
There are also photo zones for memorable shots, and a cafe for a snack.
The park is surrounded by natural water bodies. Picturesque landscapes are pleasing to the eye.
The park is open only during the warm season.
Interactive museum-theater "Skazkin Dom"
Heroes of folk tales, epics, legends and songs live here. They hold interactive shows for children and tours of the magical forest, show the possessions of Moroz Ivanovich and Koshchei the Immortal, the house of the Three Bears and the hut of Baba Yaga.
Princesses, bogatyrs and goblin in the role of guides help to unravel the mysteries, acquaint with the fabulous way of life, teach magic.
The museum is located in the Alexander Garden. A visit can be combined with a trip to the zoo or planetarium.
Performances can be selected based on the poster:
for kids – "hen Ryaba", "Magpie-white-sided";
for older children – "Adventures near Lukomorye", "The Story of Papa Rabbit".
Angry Birds Activity Park
Attractions and entertainment are based on the game about angry birds and green pigs. At the disposal of children is the whole "Island of pigs" with winding streets and unusual buildings.
Chocolate Museum
A chain of stores where all presented chocolate is made by hand. They add to it:
nuts;
dried fruits;
liqueurs;
caramel with a variety of flavors.
Children are delighted with edible computers, buildings, cartoon characters and other chocolate figurines.
The address of the main store of this network: st. Zhukovsky, 18.
Bolshoi Puppet Theater
Performances are designed for audiences of all ages. There are musical, plastic and puppet performances.
The theater is known for its Theater Ambulance project, in which actors perform for children in hospitals, rehabilitation centers and shelters.
foxpark
Living fairy tale! A family of foxes lives in the park, in whose houses you can go and play.
Grandmother fox is engaged in a garden. The mother fox invites guests into the kitchen to prepare something delicious. Grandfather the fox collects a library, and dad makes slingshots with cones and carts with wooden wheels. You can get acquainted with foxes, play and interact in every possible way.
Aquapark "Piterland"
A visit to the water park is a good option for relaxing in wet and gloomy weather, which often happens in St. Petersburg.
Slides of different heights, pools of different depths, playgrounds, labyrinths. You can swim here all day long!
The highlight of the water park is the Black Pearl-style pirate ship.
The Black Pearl is a fictional galleon from the Pirates of the Caribbean film series. The Black Pearl is easily recognizable by its black sails.
Park them. Babushkina (park of fairy tales)
In winter, they ride on the Ice-Grad ice rink. And in summer, the rope zone, karting and the DinoPark dinosaur playground are popular.
Rope Park TreeToTree
It is located near the Gulf of Finland, which additionally attracts visitors.
The park itself is divided into zones according to the complexity of the route and the age of the participants. Children from 6 to 10 years old are issued a green ticket, from 10 to 14 years old – a yellow one, and over 14 years old – a red one. Such zoning is very convenient, since visitors do not crowd in one place and do not intersect on rope routes.
These parks are very popular. You can also visit:
To communicate with animals
Leningrad Zoo
The name of the zoo has been preserved since Soviet times in memory of how its employees managed to save animals during the blockade and famine.
Now there are about 2.5 thousand animals and birds, some of which are listed in the Red Book .
The Red Book is a large list of rare animals, plants and fungi that are endangered and require protection and protection.
The most popular inhabitants of the zoo are predators such as:
White bears;
brown bears;
African lions;
wolves;
cougars;
jaguars;
Snow leopards;
Ussuri tigers.
The Leningrad Zoo is located in Aleksandrovsky Park. Works seven days a week.
Oceanarium "Planet Neptune"
On five thousand square meters there are three levels with inhabitants from seven climatic zones of the planet.
Most popular with visitors:
piranhas from the Amazon;
coral reef dwellers;
seals from the Baltic.
The aquarium has created conditions for visiting children and adults with disabilities.
Excursions are organized, water shows with the participation of sharks or seals are held.
There is an opportunity to dive under water and personally get acquainted with sharks, stingrays and other inhabitants of the seas and oceans. But for this you need to present a diver's certificate.
Forestry Embassy
This is an educational platform where you can:
get acquainted with the animal world of the planet;
feed animals and birds;
take care of them;
observe the behavior and habits of forest dwellers.
The Embassy has strict "state" laws of the forest kingdom. All visitors become citizens of the Embassy, therefore they are required to comply with the laws of caring for pets.
Republic of cats and cats
This cat cafe is jokingly called the cat culture capital of the north. An average of 25 cats and cats live here permanently. They can be stroked, photographed, picked up, played with and even taken home.
For leisurely walks
Kirov Park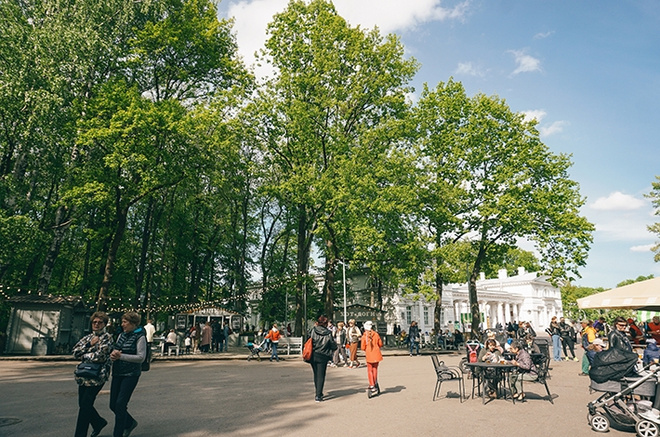 A good place on Yelagin Island, designed for leisurely family walks. Shady alleys, preserved sculptures of lions, almost tame ducks and swans in the ponds.
For those who wish, there is a rental of boats and catamarans. Kids will stay for a long time in the mini-zoo. And in the evening you can listen to a symphony orchestra in the open air.
From the western side of the park, you can see the Vantovy Bridge, the Gazprom Tower, and the Zenit Arena stadium. This corner of St. Petersburg is considered an ideal place for hiking.
Park of the 300th anniversary of St. Petersburg
Here is one of the favorite fountains among the residents of St. Petersburg, as well as a pool and a column in the form of a lighthouse. It is especially pleasant to be in the park in spring, walking along the central alley among flowering apple and linden trees.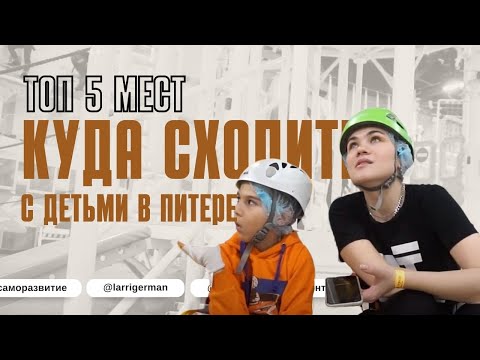 Bibliography
Petersburg. Center. site .
Where to take the child in St. Petersburg on the weekends, during the holidays. site .
30 best things to do in St. Petersburg for kids. site .
Photo: ©Shutterstock.com