Step-by-step instructions: how to transport a dog on a train
22.07.2022
Dogs can be transported on a train in Russia. Paid or free – depends on various factors: the size of the dog, whether it travels with the owner or goes to an exhibition or sale, whether it is a guide. The owner of the pet is also not always asked for a ticket and a veterinary passport. We've put together some helpful tips to help you prepare for traveling with your dog by train.
From the rules of transportation
What you need to know about buying a ticket for a dog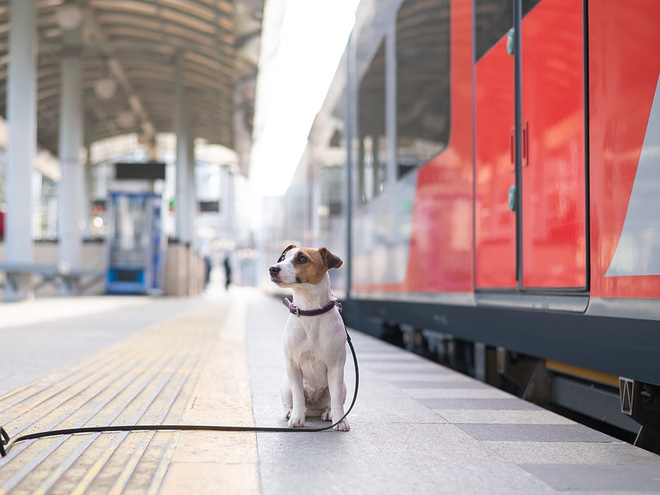 You can travel with a dog, both small and large. The rules of Russian railways do not contain the wording "medium-sized dog". Therefore, first you need to determine what size your pet is. This is necessary to understand whether carrying is needed or not. A small dog is one that fits freely in a carrier, the sum of three dimensions of which does not exceed 180 cm.
When you measure it, it will become clear how to transport it: take a small dog in a carrier, and a large one without it, but in a muzzle and on a leash.
Whether you need to buy a ticket or not depends on the type of train and the carriage in which the passenger with the dog will travel.
The rate also depends on the distance. For example, from 101 to 110 km, the surcharge for a pet will be 281 rubles, if you have to travel 401–450 km – 355.5 rubles. You will be told more about this at the railway ticket office.
…about choosing a wagon
Large dogs cannot ride in reserved seat and seated carriages. Such pets can only be transported in a compartment and some types of SV carriages.
There are also restrictions on small dogs. A passenger can carry it not in every carriage. Therefore, the question should be clarified in advance when buying a ticket. There are hints in the Internet services for purchasing railway tickets – the cars are marked with a special icon – paws.
…when you need to buy the coupe completely
If one passenger is traveling with a large dog, he must buy the entire compartment.
It is important to remember: the number of passengers in a compartment should not exceed the number of seats.
In other words, if a family of four is traveling with a large pet, one of them (of course, a person) will have to travel in another compartment on a separately paid ticket.
…about cleanliness while traveling
When traveling by rail, the dog owner is required to clean up after their pet. Cleanliness in the compartment is his duty, not the conductor's.
Exception to the rule
If a dog is a guide for a disabled person, it travels free of charge in any carriage. Pet documents are not required.
Just a couple of conditions:
the dog must be muzzled;
sit or lie next to the passenger he is accompanying.
What do you need from documents
Passengers who simply travel with a dog by train in Russia do not need veterinary documents. Read about this in the Order of the Ministry of Agriculture of the Russian Federation dated December 27, 2016 No. 589 "On approval of the veterinary rules for organizing work on the preparation of veterinary accompanying documents …".
According to the rules for the transport of animals on Russian Railways trains from 2021:
"Issue of VSD is not required when moving domestic, service, decorative animals across the territory of the Russian Federation, carried out without changing the owner and not related to entrepreneurial activities, excluding their movement to exhibition events."
The rule is also relevant for the transport of dogs on long-distance trains.
In the case when the dog travels abroad, it needs to issue a veterinary passport, where the clinic stamps and vaccination marks should be. Translate the pet's document into English and certify it with a notary.
Frequently traveling dog owners stock up on a certificate stating that their pet is either spayed or not expecting offspring. In order to prevent possible questions from the conductor during boarding the train, issue this certificate at the veterinary clinic.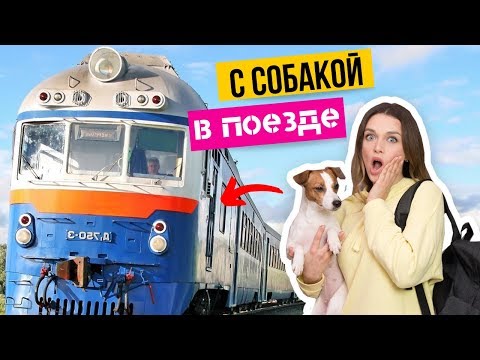 Sources:
Rules for the transport of animals on trains Russian Railways 2021 – How to transport dogs and cats on long-distance trains, website
Rules for transporting animals on the train, website