How to brew wild rose
26.06.2022
Rosehip can be brewed both fresh and dried. In order for the berries to brew faster, they are crushed or pierced with a knife.
To preserve all the beneficial properties of rose hips, it is necessary to choose the right water temperature and brewing method. Too hot water or boiling destroy vitamins and make the drink almost useless.
It is also important to note that glassware or a thermos with a glass flask are ideal options for preparing a drink, since vitamin C is destroyed (oxidized) when it comes into contact with metal. We recommend grinding fruits with ceramic knives or in a special mortar. If this is not possible, then the decoction can be prepared in one of the following ways and then stored in a glass container.
Fresh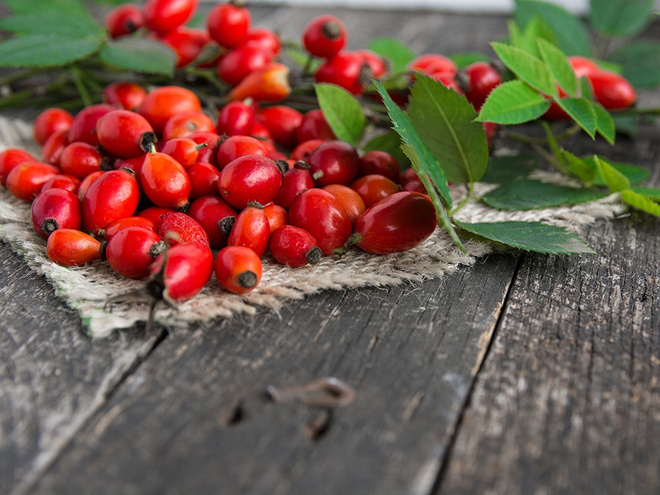 In a drink made from fresh berries, the greatest part of vitamins and microelements is preserved. However, the preparation of raw materials takes a little longer.
Step-by-step instruction
Wash the fruits.
Cut them into two parts and clean, removing the fluff.
Mash the berries with a fork or mortar.
Put in a container at the rate of 5 teaspoons per 1 liter of water.
Fill the berries with hot, but not boiling water (its temperature should be about 60-70 0 C).
Let the drink brew for about an hour.
Strain.
Put the rosehip from the broth in a saucepan.
Fill it with water in the ratio of 0.5 liters of liquid per 1 teaspoon of fruit.
Boil the fruits over low heat for 20-30 minutes.
Strain the decoction.
Add it to the infusion. This will give it a richer flavor.
Dried
When stored properly, dried berries retain most of their beneficial properties. They are easy to find on sale at any time of the year. In addition, dried berries do not need to be cleaned of villi.
Step-by-step instruction
Wash and dry fruits. To reduce the brewing time, you can grind them with a knife or using a blender.
Put berries in a container for brewing at the rate of 5 tablespoons per 1 liter of water.
Fill the dogrose with hot (70-80 0 C) water.
Leave for 6-8 hours.
Strain the drink.
in a thermos
It is believed that this method of preparing the drink helps to preserve all the vitamins and minerals contained in the fruit.
Step-by-step instruction
Sort and wash the berries. You can cut them into several pieces or leave them whole.
Pour boiling water over the thermos.
Pour the berries into it, filling the container by about ¼ part. If the rosehip is crushed, put 3-4 tablespoons in 1 liter of water.
Fill fruits with water. Its temperature should not exceed 70 0 С.
Infuse from 2 to 8 hours (depending on the size of the raw material).
Pour the infusion into a suitable container.
The remaining berries can be poured with hot water again.
Do not keep the drink in a thermos for more than 8 hours, as it will lose its beneficial properties.
in a saucepan
Of all the methods of brewing rose hips, this is considered the fastest. It is suitable for both dry and fresh berries.
Step-by-step instruction
Prepare the fruits at the rate of 2 tablespoons per 0.5 liters of water.
Put them in a saucepan.
Fill with warm water.
Leave on for 30-40 minutes.
Place the pot on the lowest heat.
Heat for half an hour without bringing to a boil.
Let the broth cool down.
Strain and get a healthy drink.
in a teapot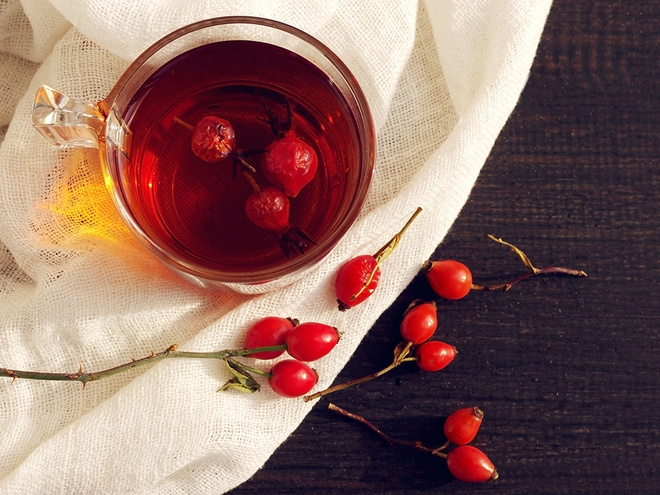 For this method, you will need a little more berries than for the previous ones.
Step-by-step instruction
Prepare rose hips at the rate of 6-7 tablespoons per 1 liter of water.
Wash and chop the berries.
Put the fruits in a teapot and fill them with hot water.
Wrap the container in a towel.
Leave for a few hours.
For taste and aroma, sugar, honey or jam can be added to the finished broth.
In a slow cooker
A slow cooker will help not only to reveal the bright taste of the drink, but also to preserve its benefits. It is best to cook it in the evening.
Step-by-step instruction
Rinse two handfuls of berries well.
Put them in the multicooker bowl.
Pour the fruits with hot water.
Set the heating mode.
Leave the berries to languish until morning.
Pour the infusion into a suitable container.
Enjoy your healthy drink!
For a child
From the leaves and fruits of wild rose, you can prepare a vitamin decoction that will help the growing body make up for the lack of nutrients. You can offer it to babies starting from 1 year, 0.5 teaspoon.
Step-by-step instruction
Finely chop a handful of fresh or dried rosehip leaves.
Fill them with a glass of hot water.
Add 2 tablespoons of crushed berries.
Infuse everything in a sealed container for several hours.
Strain the drink.
Add sugar or jam (optional).
Such a drink is recommended to be consumed through a straw in order to preserve tooth enamel.
The recommended daily intake of rosehip broth for adults is 1 cup. It is better to cook it at one time, since the vitamins in it "live" only 12 hours.
Bibliography
How to brew rose hips correctly to preserve vitamins, website .
Rosehip: how to brew and how to drink correctly to preserve vitamins, website .
How to brew dried and fresh rose hips, website .
We brew rosehip tea correctly, site
Photo: © Shutterstock.com