Video: how Prince George's cousin became famous all over the world
24.05.2022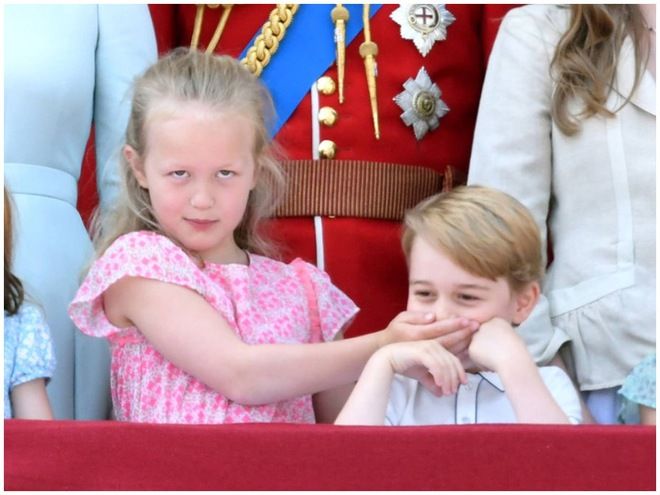 Trooping the Color parade took place yesterday in London in honor of Queen Elizabeth II 's birthday. The birthday girl, along with her relatives, watched the show of the Royal Air Force, standing on the balcony.
There were many children among the members of the royal family, and, of course, all attention was paid to them. But, as you know, such formal events are boring for children, so the younger monarchs entertained themselves as best they could.
Especially "distinguished" Savannah Phillips , older cousin of Prince George and Princess Charlotte , who stood between them. Seven-year-old Savannah, the granddaughter of Princess Anne, the only daughter of Elizabeth II, literally blew up the Internet with her behavior, which caused a lot of controversy about the upbringing of the young representative of the royal family. The girl was very emotional during the show, "making faces", showing her tongue and other gestures, and also, as best she could, entertained her younger cousins, Prince George and Princess Charlotte, either making them laugh or calling for silence.
Savannah was especially surprised when she covered Prince George's mouth with her hand, after her previous attempts to calm the kids were unsuccessful.
However, some believe that the "impudent girl" was simply not impressed by her younger brother, who at that moment was singing the anthem. But the behavior of Savannah clearly did not like Prince William, who disapprovingly watched what was happening.
Many fans of the royal family immediately began to discuss this curious incident and were divided into two camps: some considered the behavior of children cute and natural, while others decided that such bad manners was simply unacceptable.
In fairness, it should be noted that such a curiosity happened not for the first time: Prince Harry also once "shut his mouth" to his cousin, Princess Beatrice. It happened on September 5, 1990, at a celebration in honor of the 50th anniversary of the Battle of Britain. Six-year-old Prince Harry stood on a bench with two-year-old Princess Beatrice on the long-suffering balcony of Buckingham Palace – exactly where George and Savannah were.
What do you think about the behavior of young representatives of the royal family?
And look what a mess the Princess Leonor, the daughter of the Swedish Princess Madeleine, made at the christening of her younger sister .
Photo: Instagram