Such different cabbage rolls: 5 recipes for your piggy bank
24.05.2022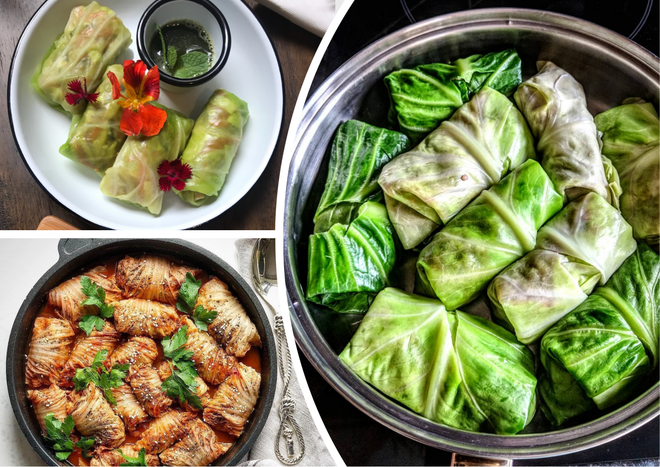 The summer menu cannot consist only of vegetable and fruit salads, the body needs hearty meat dishes. What to cook to surprise your family and at the same time not stand at the stove for a long time? We propose to make cabbage rolls!
Chinese cabbage rolls
Ingredients:
chinese cabbage – 1 head
minced meat – 700 g
rice – 0.5 cup
salt – 0.5 tsp
spices – 1 teaspoon
carrots – 2 pcs.
vegetable oil – 2 tbsp. spoons
Cooking:
Dismantle a head of Peking cabbage into leaves. Put 5-7 leaves in a cup and heat in the microwave for 5 minutes at maximum power. As a result of this procedure, the leaves will become soft and will wrap without breaking.
Boil rice until half cooked and mix with minced meat. Salt, pepper. Grind the carrots on a coarse grater, fry in vegetable oil until soft. Transfer to a bowl in which the cabbage rolls will be stewed.
Cut off the thickenings from the prepared cabbage leaves. On one end put 1-2 tbsp. spoons of filling (the size of cabbage rolls will depend on the size of the cabbage leaves), wrap in a roll, picking up the edges. Arrange the wrapped cabbage rolls in a stew dish over the roasted carrots.
Pour salted water into a baking dish so that it slightly covers the top layer of cabbage rolls. Stew cabbage rolls in the oven in a bowl with a lid for 1 hour.
2 in 1: cabbage rolls and stewed potatoes
And this recipe will allow you to cook two delicious dishes at once.
Ingredients:
potatoes – 700 g
minced meat – 800 g
cabbage – 1 head
rice – 100 g
onion – 2 pcs.
carrots – 1 pc.
salt, pepper, cumin – to taste
tomato juice – 100 ml
Cooking:
Prepare the cabbage leaves as we suggested in the previous recipe.
Add 1 chopped onion, washed rice, spices and 100 ml of water to the minced meat. Stir.
Cut the onion and carrot and fry in sunflower oil until golden brown. Add tomato juice, salt, pepper to taste and after a couple of minutes turn off the heat. Cool the minced meat and make cabbage rolls.
Put the remaining cabbage leaves on the bottom of the pan, then the cabbage rolls, potatoes and fill everything with water. Readiness check on potatoes. At the end, add greens.
Cabbage rolls in the oven
A great option for those who do not want to stand at the stove in the heat.
Ingredients
For pigeons:
cabbage – 1 head
minced meat – 1 kg
rice – 0.5 tbsp.
onion – 1 pc.
garlic – 2-3 cloves
salt, pepper – to taste
For gravy:
tomato paste – 1 tbsp. the spoon
sour cream – 2-3 tbsp. spoons
water – 300 ml
garlic – 1 clove
salt, pepper – to taste
Cooking:
The preparation of cabbage rolls almost completely repeats the first recipe of our selection.
Wrap cabbage rolls in cabbage leaves. Put them in a heat-resistant form with high sides.
Prepare the gravy and pour it over the cabbage rolls. Cover the form with foil and cook for 40-50 minutes at a temperature of 200 degrees. Serve with sour cream.
Vegetarian cabbage rolls
This dish will appeal to those who do not like meat or just want to cook vegetables in a new way.
Ingredients:
brown rice – 150 g
pearl barley – 150 g
carrots – 1 pc.
onion – 1 pc.
cauliflower – 1 head
cabbage kale – 6-7 sheets (you can use Beijing)
umeboshi plum sauce – 5 tbsp. spoons
Cooking:
Boil barley and rice. Stew carrots and onions. Pair these foods with chopped raw cauliflower.
Wrap the filling in cabbage leaves and simmer the cabbage rolls for 20 minutes. For a pleasant sourness, add umeboshi sauce.
Kale and exotic sauce can be replaced with Chinese cabbage and homemade tomato sauce.
"Lazy" pigeons
If there is no time to wrap minced meat in cabbage leaves, cook "lazy" cabbage rolls.
Ingredients:
cabbage – 1 head
minced meat – 700 g
rice – 0.5 cup
salt – 0.5 tsp
spices – 1 teaspoon
carrots – 2 pcs.
vegetable oil – 2 tbsp. spoons
tomato juice – 200 ml
Cooking:
Cut vegetables and stew with minced meat.
Add tomato juice and cooked rice until half cooked. Salt, pepper, serve with sour cream.
How do you cook cabbage rolls? Share your signature recipe in the comments below .
Photo: Instagram