Quick and easy: 5 dinner recipes for lazy moms
24.05.2022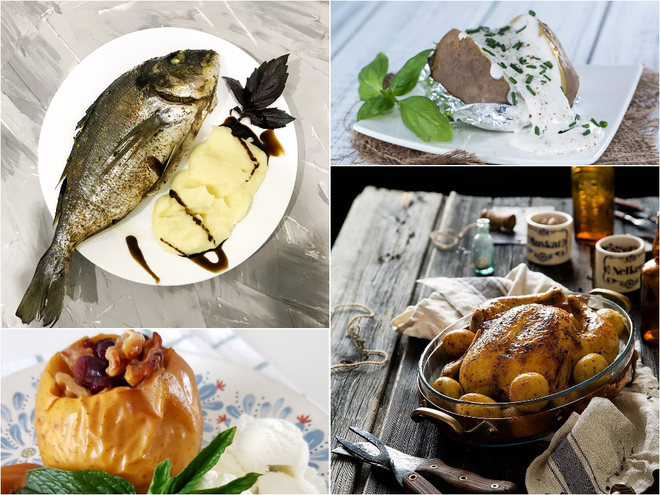 We have selected special recipes for moms who do not have enough time to stand at the stove for a long time. These dishes are made in an elementary way: you need to collect the ingredients together, wrap in foil – and wait away from the stove until cooked! In addition, among them there are recipes for vegetarians, meat eaters and those who love sweets.
Potato baked in foil
© Depositphotos
Ingredients:
potatoes – 5 pcs.
butter – 100 g
parmesan or other hard cheese – 100 g
sour cream – 150 g
garlic – 3 cloves
parsley – a few sprigs
Cooking:
Wash the potatoes thoroughly, pat dry with a towel and, without peeling, wrap in foil. Bake in the oven for 45 minutes at 180 degrees.
While the potatoes are baking, prepare the filling. Grind the cheese on a fine grater, pass the garlic through the press. Finely chop the greens. Combine cheese, garlic, herbs and soft butter. Stir to get a homogeneous mass.
Remove the cooked potatoes, let them cool slightly, make a longitudinal cut and open slightly. Fill the "pocket" with flavored stuffing.
Dorado baked in foil
© Instagram @food_istorii
Ingredients:
dorado – 1 pc.
lemon – 1 pc.
olive oil – 20 ml
salt and black ground pepper – to taste
green basil – a few sprigs
Cooking:
Remove scales and entrails from fish. Rinse and dry.
Brush half a wide sheet of foil with a little olive oil. Put the fish on this half, salt and pepper it on both sides, rub with olive oil.
Squeeze the juice from half a lemon and drizzle over the fish. Cut the second half into thin slices and put them together with chopped basil in the abdomen.
Wrap the fish tightly and bake for 20-25 minutes at 200 degrees.
Chicken baked in foil
© Instagram @m65_spb
Ingredients:
chicken – 1 pc.
salt – 2 teaspoons
spices – 2-2.5 tsp
Cooking:
Wash and dry the chicken. Rub the inside and skin with spices, salt, leave for 10-15 minutes.
Wrap in foil and bake in the oven at 180-190 degrees. Cooking time depends on the size of the chicken, for a bird weighing 1 kg, 40-50 minutes will be enough.
At the end of baking, open the foil on top (do not burn yourself). To make the chicken golden in color, increase the temperature to 200 degrees and cook for another 15-20 minutes.
Pork with vegetables baked in foil
© Instagram @vikadolbny95
Ingredients:
pork – 1 kg
onion – 2 pcs.
carrots – 1 pc.
potatoes – 6 pcs.
mustard seeds – 2 tbsp. spoons
salt, spices – to taste
vegetable oil – 100 ml
Cooking:
Wash the meat, dry it and cut into small pieces. Peel potatoes and carrots and cut into cubes.
Cut the onion into half rings, mix with mustard seeds, vegetable oil, salt and spices.
Lightly oil half a wide sheet of foil. Put the pork, vegetables there, and on top – the onions in the marinade.
Cover carefully with foil and bake for 50-60 minutes at 200 degrees.
Apples with nuts and honey baked in foil
© Instagram @diuimovocika
Ingredients:
apples – 4 pcs.
finely chopped walnuts – 2 tbsp. spoons
cinnamon – 0.5 tsp
liquid honey – 2 tbsp. spoons
Cooking:
Cut off the top of the apples. Using a knife, cut out the middle without damaging the walls and bottom. Mix the nuts with honey and fill the apples tightly with the stuffing.
Prick each apple with a toothpick in several places. Wrap individually in foil, making sure to leave a small hole open at the top. Bake apples for about 35 minutes at 180 degrees.
What foil dishes do you cook most often? Share your recipes in the comments.
Photo: Instagram, Depositphotos