Milk rivers, flower shores: unusual photo shoots for babies
24.05.2022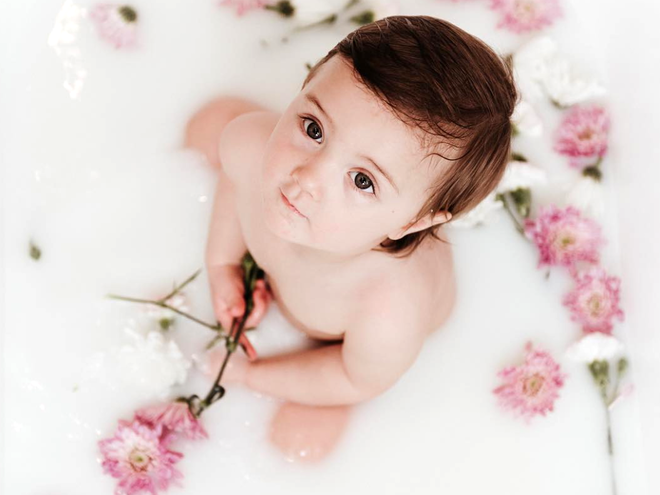 There are never too many beautiful photos! Therefore, many young mothers who participated in "milk photo shoots" again become their heroines. But not alone, but together with their kids. Photographers also offer individual photo shoots for children.
We'll tell you what preparation for creating beautiful photos looks like. First, prepare a bath or other container, filling it with ordinary warm water. Then a model comes in – a baby (or a mother with a baby). Milk or cream is gradually added to the water. They should be very low fat – so that the water is no longer transparent, but also not white.
© Instagram @lidiya_stanko
Final touches: fresh flowers and leaves are laid out on the surface of the water, decorated with fresh fruits.
It is interesting that children during "milk photo shoots" are not capricious. They fall asleep, drink breast milk, then fall asleep again, wake up, look at beautiful flowers … See for yourself!
Oh, it looks like I'm going to sleep now
© Instagram @kilakateyu
Mom says I'm her flower
© Instagram @rubesooo
… and I'm daddy's strawberry!
© Instagram @renata_estevam_
Take pictures of me! I smile beautifully now
© Instagram @throughtheeyesofanecomum
… and I smile beautifully
© Instagram @eh_bella_papaya
Aunt photographer, can I lick this orange?
© Instagram @dominikfoto_photography
It's good that they didn't forget to put on a bandage with a flower!
© Instagram @eco_mama_of_2
Why am I not in the bathroom? Why am I sitting in this pot?
© Instagram @oksanamatvienko
Hold me gently and please don't wet my hair!
© Instagram @hello.ellefoto
That's how beautiful my mother is!
© Instagram @b_e_markus
Mom, they are actually guessing on a camomile! ..
© Instagram @miufotografia
We sleep so sweetly here!
© Instagram @tiffanyburkephotography
You have a photo shoot, and I have lunch!
© Instagram @stinsmanphotography
Mommy, I'll hug you like this…
© Instagram @neonatal_nextgen
Would you like a "milk photo shoot" for your baby?
Announcement photo: Instagram @photography_erica_jane