Master class: how to sew bumpers in a crib
24.05.2022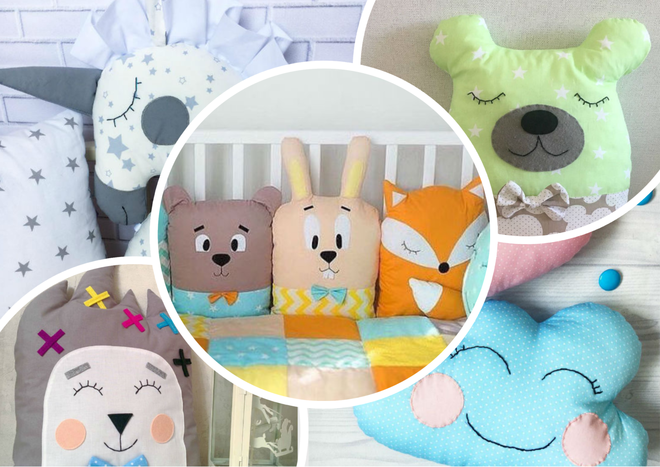 Online stores and microblogs sell a lot of bumpers for cribs. However, it is quite possible to make them yourself. After all, not so much is required to create them – the most elementary materials and tools, a little imagination, patience and your time.
If your baby sleeps in a standard crib measuring 125 by 65 cm, we will sew 12 side pillows.
Instagram @textili_05
You will need:
3 meters of fabric (natural fabrics of different colors 150 cm wide)
holofiber 1.5 kg (hypoallergenic filler)
rep tape – 30.7 m
threads, needles
sewing machine
Manufacturing:
Be sure to wash the fabric before starting work. It will shrink a few centimeters.
Make a pattern out of thick paper. Wallpaper is perfect for this purpose.
Cut out a square measuring 33×33 cm (including allowances).
Cut out blanks for future pillows from the fabric.
Cut 64 cm of grosgrain ribbon and fold in half. Burn the ends with fire so that they do not crumble. Four ties are needed for one side.
Fold the squares inside out. Attach ties to the four corners with pins.
Sew the blanks on the sewing machine, leaving 12 cm to fill the pillow-side with holofiber.
Turn the pillow inside out and fill it with holofiber. One pillow takes about 110 grams of filler. Sew the remaining opening with a blind stitch.
More simple in execution, of course, square-shaped pillows. But if you want fantasy sides, you can adapt the pattern to the shape you need. The most popular forms of pillows-sides now are:
…cloud
Instagram @plyushkiigrushki
Instagram @darya_kops
… hedgehogs
Instagram @_olgashi
Instagram @cutie_kid_lviv
…dogs
Instagram @stezhok_mgn
… bunnies and cats
Instagram @shveya_dlya_vas
…bears
Instagram @pretty_baby_dream
…unicorns
Instagram @darya_kops
Instagram @babyx_kh
..owls
Instagram @zefirkabombon
Mix and match different pillows and create your own unique crib edge!
Instagram @my_baby_shop123
Instagram @mimi.cotton
Do you like needlework?
Photo: Instagram