Jelly: a delicious and light dessert for the sweet tooth
24.05.2022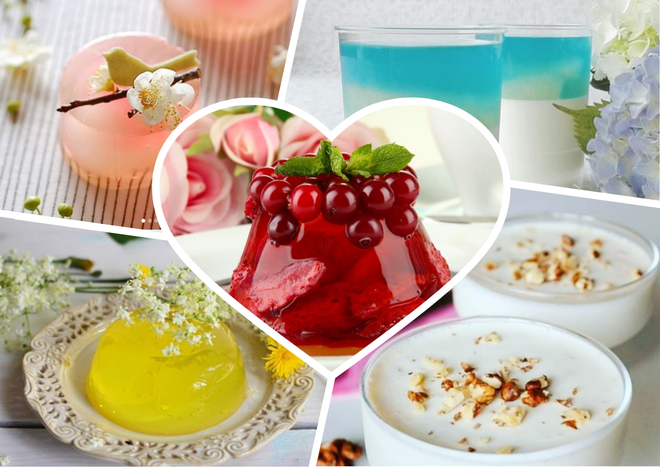 All kids love jelly. Fruity, berry, creamy, chocolate, multi-colored… It looks so beautiful in molds that you want to eat it right away. Best of all, it's easy to make and makes the perfect summer dessert.
There is a basic jelly recipe that is easy to adapt to your gastronomic preferences.
Jelly with currant
Ingredients:
gelatin – 20 g
water – 100 ml
berry juice – 0.5 l
sugar – to taste
fresh currant – quantity of your choice
Cooking:
Pour gelatin with boiled water at room temperature and leave for 30 minutes to swell.
Then pour the juice into a saucepan and bring it to a boil.
Add prepared gelatin and stir until completely dissolved.
Arrange the berries in molds, pour over the prepared juice and refrigerate until completely solidified.
Raspberry jelly with cream
Ingredients:
33% cream – 400 ml
milk – 200 ml
water – 3 tbsp. spoons
sugar – 80 g
gelatin – 10 g
raspberries – 300 g
Cooking:
Soak gelatin in 3 tablespoons of water for 10-15 minutes.
Combine milk, cream and sugar, bring to a boil and completely dissolve the sugar.
Remove from heat, cool slightly, add gelatin and let cool to room temperature.
Beat the raspberries with a blender, wipe through a sieve and add to the milk-cream mixture.
Pour into glasses or molds and refrigerate.
Kids love fantasy jelly, so try making it colorful. We offer you a proven recipe for fruit and creamy dessert.
Multilayer jelly with melon balls
Prepare the gelatin mass and divide it into two parts. First, heat the first one – with melon juice. Place melon balls in a glass, fill with fragrant gelatin mixture and refrigerate until set. Then heat the second part of gelatin – with a mixture of milk and sugar. Pour it over the already frozen jelly and cool again.
The final chord is the third layer with melon balls. And back to the fridge to chill.
jelly cake
To prepare this jelly cake, you will have to master the skill of quickly shifting the jelly from the mold to the dish. In fact, everything is simple: fill a bowl with warm water and put a mold with jelly in it. Be careful not to get water on the dessert, hold for a few seconds and remove. And so two or three times. You will see how easily the jelly moves away from the edges of the mold.
Then invert the jelly mold onto a plate. Putting one palm under the bottom of the plate, and holding the shape with the other, shake sharply and quickly. The jelly should be on the plate. If it doesn't work right away, don't worry! Skill comes with experience.
Photos for culinary inspiration
Creamy jelly "Sky and clouds"
Cherry jelly with cream
Strawberry jelly cake
Peach jelly
Mint green tea jelly
Milk blueberry jelly
And this is just something unimaginable!
Bon appetit!
Do you like jelly?
Photo: Instagram