Frosty, delicious, simple: making ice cream and popsicles
24.05.2022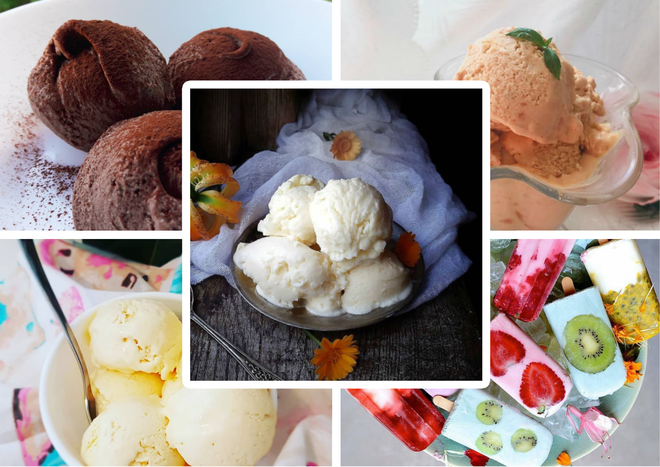 We can't imagine summer without delicious homemade ice cream, so we suggest making it as often as possible. All recipes are very simple, the main thing is to be patient for about 3-4 hours, and then taste the cold treat.
creamy ice cream
Instagram @kamila_romin
Ingredients:
milk – 1 l
egg yolks – 5 pcs.
butter – 100 g
sugar – 2 cups
starch – 1 teaspoon
Cooking:
Combine milk and butter in a saucepan. Stirring constantly, bring the mixture to a boil. Remove from stove. Rub the egg yolks with sugar, adding a teaspoon of starch to them. You can beat with a mixer – the mass should become homogeneous. Then carefully add a little milk to it, achieving the consistency of liquid sour cream.
Put the saucepan of milk and butter back on the stove, pour in the egg mixture. Stirring constantly, bring to a boil. Remove from heat and cool by placing a saucepan in cold water. Don't forget to stir constantly!
Once the mixture has cooled, place in the freezer. Please note: to prevent the ice cream from turning into a mixture with grains of ice, it must be stirred every three hours.
By the way, this recipe is the base for making homemade ice cream. By adding different fruits and berries to it, you will get new tastes. For example…
…Strawberry ice cream
Instagram @oxana_na_pp
…peach ice cream
Instagram @olya_afinskaya
…orange ice cream
Instagram @legicakes
…basil ice cream
Instagram @savintseva_olga
…chocolate ice cream
Instagram @liza_tasty_blog
…apricot ice cream
Instagram @lilia_terenteva_
…raspberry ice cream
Instagram @ekaterina240377
Fruit ice with yogurt
Instagram @icecreamislandkz
This ice cream is less caloric than with chicken eggs and milk. But that doesn't make it any less delicious!
Ingredients:
berries – 400 g
sugar – 1/4 cup
freshly squeezed fruit juice – 1.5 cups
Cooking:
Mash and then beat the berries with sugar, mix the fragrant mass with juice. Place in refrigerator.
When the ice has hardened a little, transfer it to ice cream molds and stick the sticks in.
Get inspired and make delicious popsicles…
…with yogurt
Instagram @vkusno.py
… from citrus fruits
Instagram @luchermsk
…kiwi
Instagram @financier.cafe
… strawberries
Instagram @tepliakovainna
…apples
Instagram @imshinygirl
…milk and strawberries
Instagram @maruschamaxi
Bon appetit!
Announcement photo: Instagram