15 ideas: a pirate party for a children's birthday
24.05.2022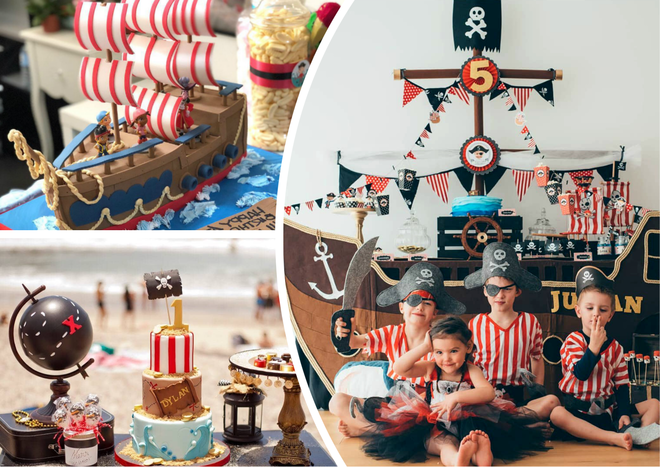 A themed party is always fun, because kids love to dress up and transform, they immediately jump into the game. If your son is crazy about Jack Sparrow and only wears clothes with prints from Jake and the Neverland Pirates, if your daughter's favorite cartoon about fairies is Fairies: Mystery of Pirate Island, it's time to have a real pirate party!
Organizing such a holiday is not at all difficult, it only takes a little imagination, your time and, possibly, a few evenings devoted to "pirate" creativity . But the result will surely delight your child! And we have collected ideas for you that will certainly come in handy when developing a pirate party.
This is what an unusual invitation to a pirate party looks like
© Instagram @hubar.family
If you have a few cardboard boxes, be sure to "build" a pirate ship
© Instagram @_julia_nb
Turning children into little pirates is as easy as shelling pears: tie a black bandanna for each or hand out cocked hats and vests
© Instagram @_michi_2_
Don't forget the eye patch!
© Instagram @sophiemosedale
Carnival costume is not the most important thing, face painting rules!
© Instagram @irinkaraduga
And the main pirate of the evening cannot do without a parrot
© Instagram @_joanneguy
Long balls can act as swords. But if you want something more unusual and durable, sew these weapons for your pirates:
© Instagram @sova_pugovichok
To make the photos bright and thematic without processing in Photoshop, take care of the photo zone
© Instagram @fotocenter_oscar
© Instagram @fotocenter_oscar
© Instagram @scrap_atelier
You can save a lot on the photo zone if you use balloons to decorate it.
© Instagram @ykrasharik_bolotnoe
By the way, about balloons. They, of course, must also be pirated!
© Instagram @thepartycompanyuk
© Instagram @bubblegumballoons
In a pirate party, as in any other themed holiday,
it's all about the details
© Instagram @foxinaboxbunting
© Instagram @tconleycreations
© Instagram @partyanimals.blog , @urbanefruits
© Instagram @elisagiacometti
The quest will help to make the holiday interesting and add activities to it. Treasure hunting is the most suitable task for a pirate party, and for it, of course, you need a treasure map…
© Instagram @victoriadi142
A pirate piñata will help to complete the activity with bright emotions.
© Instagram @tharangau
Is it time for a sweet table? Can you imagine how surprised and delighted the children will be when they see that the treats are the most pirated? Bon appetit!
© Instagram @lepetitepop
© Instagram @natalie_and_cake
© Instagram @mykidatelier
© Instagram @moipryanik
© Instagram @minicakesbynat
© Instagram @ilovebarushka
© Instagram @lepetitepop
© Instagram @yamytreatbags
Birthday is the day when everyone gives gifts to the birthday boy. Where to put them?.. We suggest using a special pirate gift storage: a chest!
© Instagram @configure_wood
To please the little guests, you can also make gifts for them. For example, at the end of the holiday, distribute pirate bundles or bonbonnieres with sweets
© Instagram @madame_girafa
Star mothers also arrange holidays for their children in the style of Treasure Island, Polina Dibrova also prepared such a holiday for her son. Watch the video:
What style theme party have you already arranged for a child?
Announcement photo: Instagram @mysweetlittlewonder , @mykidatelier , @lepetitepop